State and Local Feasts, and Other Festivities
current events
Moreška sword dance performances in Korčula town: In July and August; on Mondays and Thursdays at 9 p.m. and in mid May-June-September-mid October on Thursdays at 9 p.m. only
EVENTS PREPARED JUST FOR YOU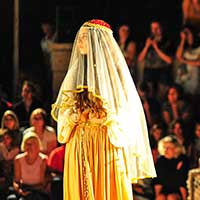 Moreška sword dance
on mondays and thursdays
summer cinema, 21:00, Korčula
'The folkloric battle is part of Korčula's identity and a symbol of Korčula struggle for freedom through the centuries.'
Circle in Circle, Chiara Passa
Sep 22nd 2019. - Sep 24th 2019.
20:00 - 22:00, Trg pomirenja (Spomenik), Korčula
Curator/s: Darko Fritz
Supported by: Ministarstvo kulture RH, zaklada Kultura Nova, Dubrovačko-Neretvanska županija, Grad Korčula
Circle in Circle is new work from the series Inside Geometry double language (2015-ongoing). The site-specific installation is designed in relation to spheric arhitecture of the WWII Memorial Complex in Korčula town, designed by Bernardo Bernardi 1981. Virtual reality (VR) video installation is composed of 12 3D-viewers and 12 smartphones playing different VR animations.
LEAVE || ACT
Cosimo Mollica, Giuseppe Legrottaglie
Sep 23rd 2019. - Sep 23rd 2019.
Meeting point Trg pomiranje (Spomenik) Korčula at 16:00.
Curator/s: Chiara Passa, Darko Fritz
Supported by:Ministarstvo kulture RH, zaklada Kultura Nova, Dubrovačko-Neretvanska županija, Grad Korčula
AR (augmented reality) walk within the Korčula town is inspired by phychogeographies by Guy Debord.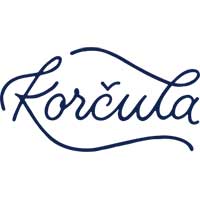 Zvonko Letica
PRVO STOLJEĆE I PO
KORČULANSKOG TURIZMA
Knjigu predstavlja Aljoša Milat
September 27, Centar za kuturu 19:00, Korčula
July 12 till 13, Korčula
Workshop

'BLACK ISLAND - WHITE WINES' - WINE FESTIVAL
July 14, 20:00 - 22:00
Trg Sv. Justine, Korčula
The island of Korčula, it has been famous for millennia old tradition of wine making. By contrast to the rest of Dalmatia, which is known mostly for its red wines, the island of Korčula is renowned above all for the quality of its white, made from its native grapevine varieties
State and Local Feasts, and Other Festivities
WHOLE YEAR Calendar
Calendar of events
In summer months guest performances from Croatian theatres, appearances of affiliated folklore societies from Croatia and abroad take place.
Sport events, religious processions, wine festival, ...
Numerous events
Korčula hosts numerous cultural events in the summer:
exhibitions, concerts, theatre performances, promotions and the Korčula Sword Dance Festival; also the Korkyra Baroque Festival which attracts musicians of world repute.
The ancient sword dance of Moreška, an officially protected intangible cultural heritage of the Republic of Croatia, has been performed in Korčula for more than 400 years. Two kings and their armies fight for a beautiful girl (Bula) in a dramatic seven-figure dance accompanied by a wind orchestra. Moreška is performed twice weekly during the summer season.
However, the most significant performance is that of the Day of the Town or Saint Theodore's Day, July 29, when the three brotherhoods colourfully process through the town - All Saints, Saint Rocco, and Saint Michael. Their costumes and religious regalia are especially impressive.