PROJEKT: 'REVITALIZACIJA OBRAMBENIH UTVRDA GRADA KORČULE'
Europska unija – Zajedno do EU fondova
Projekt je sufinancirala Europska unija iz Europskog fonda za regionalni razvoj - OP Konkurentnost i kohezija
---


Korčula è la storica città fortificata, situata sulla costa orientale dell'isola omonima. L'antica città è circondata dalle mura e le sue vie sono costruite in forma della lisca di pesce che consente il libero flusso d'aria ed allo stesso tempo protegge da venti forti.
---
Medvinjak e Žrnovska Banja sono le province di Žrnovo, ed offrono la sistemazione nei numerosi appartamenti e case per le vacanze.
KNEŽE - Proseguendo verso Račišće si passa per la baia di Kneža con le sue numerose case per vacanza, appartamenti e camere in affitto.
RAČIŠĆE - Gli intraprendenti abitanti di Račišće hanno subito accettato la cultura marittima.
Vicino al villaggio di Čara, è sistemato il porto di ZAVALATICA che si è sviluppato nel passato per l'esportazione di vino, ed oggi offre una vasta gamma di alloggi privati. Le spiagge adiacenti con le più piccole spiagge di ghiaia come Žitna e Čavića Luka, sono adatte per famiglie in vacanza.
---

Il villaggio pittoresco di Žrnovo si trova vicino ai borghi di Brdo, Prvo selo, Kampuš e Postrana.
PUPNAT - Sono conservati i numerosi bungalow dell'epoca coperti di mattoni di pietra, specialmente il complesso di stalle a sud-ovest del villaggio.
ČARA - Il prodotto più famoso di Čara, oltre ad un buon olio di oliva, è il ben noto vino bianco secco derivato dall'autoctona varietà di Pošip.
---
BENVENUTI SUL SITO UFFICIALE DELL'ENTE TURISTICO
DELLA CITTÀ DI KORČULA
L'isola di Korčula incanta con la sua bellezza senza tempo, ed i tempi passati hanno lasciato tracce nella pietra che racconta la storia. Korčula vanta delle tradizioni vive che coltiva. Moreška, la danza con le spade, svolgono - "bate" ormai da secoli i suoi abitanti che ne sono orgogliosi - a Čara, Pupnat e Žrnovo assieme alla danza di Kumpanija e Moštra, trasmettendola di generazione in generazione per secoli. Le confraternità nella Città di Korčula e per tutta l'isola confermano la viva tradizione religiosa, percorrendo le vie dei loro antenati. A Račišće si è mantenuta la tradizione di ballare il "tanac" alle nozze. Conoscete la città di pietra, scoprite le viuzze ("kale") nascoste passando vicino alle decorate facciate dei palazzi eleganti, camminando sulle strade acciottolate, mentre il sole bacia il mare al tramonto.

SULLA POSSIBILITÀ DI VENIRE
IN CROAZIA
E SULL'ISOLA DI KORCULA
EU citizens, as well as non-EU citizens, who have either recovered or been vaccinated or have a negative PCR or EU-approved antigen test, will be able to enter Croatia for tourist reasons. Detailed information on: Details
---
Platform Re-open EU offers numerous useful information on borders, transport, travel, restrictions and security measures in the EU member states: reopen.europa.eu
---
Please find an informative leaflet for the guests addressing procedures in case of suspected COVID-19. Both leaflets are in Croatian and English languages.
Leaflet
Leaflet in english :: Leaflet in croatian
---
COVID-19 PCR testing with PCR and rapid antigen
Leaflet

---
divertiti e goditi gli eventi
preparati per te

THE EXHIBITION
"MOREŠKA AND KUMPANIJA
DANCES WITH SWORDS ON THE ISLAND OF KORČULA"

The exhibition
25.9.-15.10.2021.
Trg pomirenja in Korčula Town,
Moreška and Kumpanije are entered in the Register of Protected Cultural Property of the Republic of Croatia.

KORČULANSKI BAROKNI FESTIVAL
KORKYRA BAROQUE FESTIVAL
3. 9. – 14. 9. 2021.

KORČULA,PELJEŠAC
HRVATSKA / CROATIA
GRAD KORČULA, OTOK VRNIK
CITY OF KORČULA, ISLAND OF VRNIK

Join us for the 10th edition of the Korkya Baroque Festival with lots of spectacular concerts, famous performers, and great baroque music. The 10th Korkyra Baroque Festival will take place from 3rd to 14th of September 2021.

Premiere
of Dr. Samuel Arnold opera
"The Siege of Curzola"
14. August 2021 and on Monday, 16 August
Trg sv. Justine at 21:00, Korčula

The Opera is organised by the Town of Korčula on the occasion of 450 years from the sieged of Korčula (1571.-2021.)
Directed by: Branka Cvitković
Conductor: Josip Degl' Ivellio
Opera b.b. - Orkestar mladih glazbenika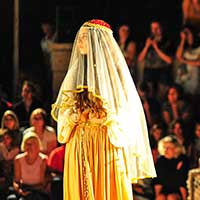 Moreška sword dance
June & September: Thursdays at 9.00 pm
July & August: Mondays & Thursdays at 9.00 pm
summer cinema, Korčula
'The folkloric battle is part of Korčula's identity and a symbol of Korčula struggle for freedom through the centuries.'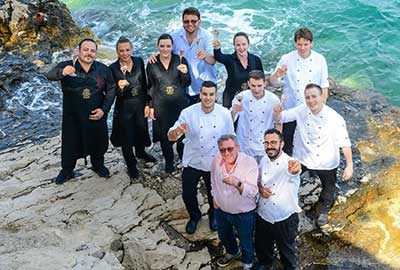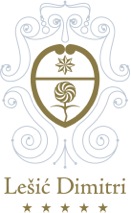 LESIC DIMITRI PALACE RESTAURANT
'LD TERRACE'
LED BY THE CHEF MARKO GAJSKI
HAS BEEN AWARDED
ONE MICHELIN GUIDE STAR

Konoba Mate and Filippi Restaurant this year continue to be on the list of recommended restaurants.
SWORD DANCE FESTIVAL
IN KORČULA
prossimo festival
12 giugno 2020
A primary goal was to preserve the island's unique traditional and historical heritage of sword dancing. Under the leadership of Mihajlo Grgić, President of the Tourist Board of Korčula, with Stanka Kraljević, Director of the tourist office, the island-wide festival was established along with the artistic management by Dr. Goran Oreb.
His prior island dance experiences along with his theatrical choreographic knowledge created the first spectacular scenario with village sword dance groups entering the city accompanied by their bagpipers and drummers.
programme
Marco Polo Challenge will include the entire island of Korčula.
MARCO POLO CHALLENGE
IN KORČULA
17 to 19 Settembre 2021
Korčula Island, Croatia
Marco Polo Challenge is jointly organized by Triathlon club Split, Korčula Tourist Board and Town of Korčula in co-operation with Vela Luka and Smokvica municipalities and their tourist boards. Marco Polo Challenge will include the entire island of Korčula. Korčula has ideal conditions for all types of active tourism and outdoor sports. The Island of Korčula with numerous cycling and walking routes and ideal conditions for all the water sports is an ideal destination for all lovers of active tourism and outdoor sports.
Therefore, start your triathlon season on the most beautiful island on the Adriatic.
web site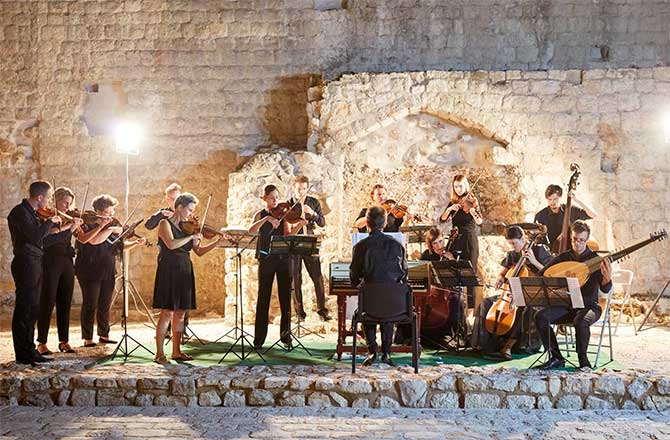 The Korkyra Baroque Festival was established in 2012 in order to promote local and international music and cultural heritage.
KORKYRA BAROQUE FESTIVAL
IN KORČULA
The unquestionable cultural and touristic success of the Korkyra Baroque Festival is founded on a superior artistic musical offer, which has been drawing tourists from around the world for several years now and has enriched the tourist cultural offer of the island of Korčula, the peninsula of Pelješac and Dubrovnik.
Concerts promote the churches of Korčula as cultural monuments, but also the unique cultural history of the entire County of Dubrovnik-Neretva.
programma
è un'isola meravigliosa là fuori
esplorare
Conoscete la città di pietra, scoprite le viuzze ("kale") nascoste passando vicino alle decorate facciate dei palazzi eleganti, camminando sulle strade acciottolate, mentre il sole bacia il mare al tramonto.
esplorare