PROJEKT: 'REVITALIZACIJA OBRAMBENIH UTVRDA GRADA KORČULE'
Europska unija – Zajedno do EU fondova
Projekt je sufinancirala Europska unija iz Europskog fonda za regionalni razvoj - OP Konkurentnost i kohezija
---


Korčula ist eine historische Stadt auf der Ostküste der Insel. Die Altstadt ist von Mauern umringt und die Straßen sind in Fischgrätenmuster angelegt, wodurch eine ungehinderte Luftzirkulation aber auch Schutz vor starkem Wind ermöglicht wird.
---
ŽRNOVSKA BANJA AND MEDVINJAK Medvinjak und Žrnovska Banja sind Ortschaften, die zu Žrnovo gehören.
KNEŽE - Besonders anziehend für Besucher sind die einladenden kleineren Kieselstrände und Tavernen, direkt am Meer gelegen.
RAČIŠĆE - Die geschäftstüchtigen Bewohner von Račišće haben sich die "maritime" Kultur sehr schnell zu Eigen gemach.
Unweit von Čara hat sich in der Vergangenheit der Weinexporthafen ZAVALATICA entwickelt, und heute ist es ein touristischer Ort mit einem großen Privatunterkunft Angebot. Die nahegelegenen Buchten mit kleineren Kieselstränden, wie z.B. Žitna und Čavića Hafen sind für den Familientourismus geeignet.
---

ŽRNOVO Die malerische Ortschaft Žrnovo besteht aus vier Weilern - Brdo, Prvo selo, Kampuš und Postrana.
PUPNAT - Ebenfalls erhalten wurden altertümliche Behausungen, abgedeckt mit Steinplatten, und insbesondere die Stallanlagen südöstlich vom Dorf.
ČARA - Das berühmteste Produkt aus Čara, neben dem ausgezeichneten Olivenöl, ist der berühmte trockene Weißwein hergestellt aus der autochthonen Rebsorte Pošip.
---
Korčula verzaubert durch ihre zeitlose Schönheit. Die vergangenen Zeiten haben ihre Spuren im Stein hinterlassen, der die Geschichte weitererzählt. Korčula rühmt sich seiner Traditionen, die die Stadt pflegt. Moreška, der Schwerttanz, wird von den Bewohner von Korčula schon jahrhundertelang mit Stolz getanzt, und Čara, Pupnat und Žrnovo pflegen ebenfalls ihre Schwerttänze Kumpanija und Moštra, indem sie diese seit vielen Jahrhunderten von Generation zu Generation weitergeben. Bruderschaften in der Stadt Korčula und auf der gesamten Insel bestätigen die lebendige religiöse Tradition und führen das Werk ihrer Vorfahren weiter.

INFORMATIONEN ÜBER REISEN
NACH KROATIEN
UND INSEL KORČULA
European Commission today is launching a platform Re-open EU which offers numerous useful information on borders, transport, travel, restrictions and security measures in the EU member states: reopen.europa.eu
---
European Commission has issued following recommendations:
🔹 15 June → as from today, the EC recommend to Schengen Member States and Schengen Associated States to lift internal border controls;
🔹 30 June → EC suggests to prolong the temporary restriction on non-essential travel into the EU until the end of the month;
🔹 1 July → EC proposes clear and flexible removing restrictions on travel to the EU starting next month.
Commission recommends gradual lifting of travel restrictions
---
In co-ordination with the Town of Korčula civil protection centre and representatives of Health Centre Korčula we are sending Recommendations in case of a suspected illness of a guest in tourist accommodation during COVID-19 pandemic.
As well attached please find an informative leaflet for the guests addressing procedures in case of suspected COVID-19. Both leaflets are in Croatian and English languages.
Please make both leaflets available for your guests. If you do not have means to print the leaflets, they will be available at the Korčula Tourist Board office. The new address is Trg 19. Travnja 1921. br.40 (Plokata former OTP bank)
Leaflet
Leaflet in english
Leaflet in croatian
---
Travelling to Island Korčula is now possible:
Ferry and catamaran lines: Ankunft mit dem schiff
Recommendation for work / stay on yachts, boats and other vessels during the COVID-19 epidemic
---
More information on flights to Croatia:
Croatia Airlines has announced that they will begin service from Amsterdam effective May 25th and will also increase the daily flights from Frankfurt. Croatia Airlines continues discussions about reinstating other flights, such as Brussels and London, but all are pending further approval. For more information on Croatia Airlines flights, please check their
website
, or the websites of companies with which you plan to travel.
Ankunft mit dem flugzeug
---
Bus from Dubrovnik and Zagreb:
Ankunft mit dem bus
---
We are forwarding an example of the confirmation of accommodation booking / charter services / etc. as a proof of accommodation booking in an accommodation establishment needed enter the Republic of Croatia, as a tourist.
Note: The Confirmation can be printed in a form of a document or as an e-mail. The persons traveling must present it when entering Republic of Croatia.
* The timetables and start of service is dependent upon the individual company. Please check directly with the service provider in order to ensure accuracy, as timetables and service may change at any time.
HABEN SIE EINEN SPASS UND GENIESSEN SIE
EREIGNISSE VORBEREITET NUR FÜR SIE
'10. MARCO POLO CHALLENGE'
18.–20. September
Triathlon – Croatian championship in middle distance triathlon
All the information on the coming activities will be available on http://marcopolochallenge.com/
Program:
19.09 2020. – 11:00 – Sprint triathlon
Swim - 750 m
Bike - 20 km
Run – 5km
19.09 2020. – 12:00 – Humanitarian race "Big hart" – 5 km
20.09 2020. – 8:00 – Middle distance triathlon
Swim: 1900 m (Start 8:00)
Bike: 90 km – Korčula – Vela Luka – Smokvica – Korčula (8:20 – 12:00)
Run: 21 km – Korčula – Račišće (11:30 – 14:00)
Organised by: Town of Korčula, Town of Korčula Tourist Board, Triathlon club Split, Municipality of Vela Luka and Municipality of Smokvica
Photo: Damir Pačić
With an aim to promote and support initiatives for design and production of local souvenirs and products, Town of Korčula Tourist Board had published a Public call for application of products to become Town of Korčula souvenirs in the year 2020. This public call was opened for all the producers registered or with registration at the territory of Republic of Croatia.
The project aim was to certify the souvenirs that meet the set criteria.
The souvenirs had to present the continuity of artistic, cultural, historical and traditional heritage of Town and island of Korčula. The souvenirs had to present Korčula material, intangible and natural heritage.
The selected souvenirs cover 5 categories and will be promoted by Korcula Tourist Board web site and other online channels. The intention is to continue with public calls in coming years, thus continue to encourage production of souvenirs on the island of Korčula.
Therefore, we call all the souvenir shops in Town Korčula to express interest in including certified Korcula souvenirs in their assortment. The souvenir shops that offer the certified Korčula souvenirs will also be promoted through Tourist Board online channels.
If you are interested in such a co-operation, please contact Korčula Tourist Board where you will also be able to see the selected souvenirs.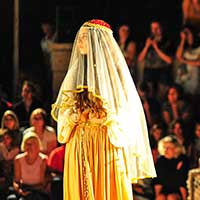 Moreška sword dance
June & September: Thursdays at 9.00 pm
July & August: Mondays & Thursdays at 9.00 pm
summer cinema, Korčula
'The folkloric battle is part of Korčula's identity and a symbol of Korčula struggle for freedom through the centuries.'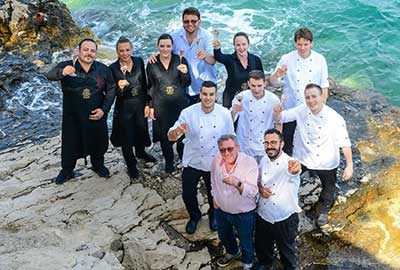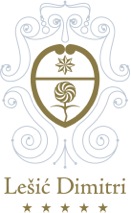 LESIC DIMITRI PALACE RESTAURANT
'LD TERRACE'
LED BY THE CHEF MARKO GAJSKI
HAS BEEN AWARDED
ONE MICHELIN GUIDE STAR

Konoba Mate and Filippi Restaurant this year continue to be on the list of recommended restaurants.
Marco Polo Challenge will include the entire island of Korčula.
MARCO POLO CHALLENGE
IN KORČULA
18 to 20 September 2020
Korčula Island, Croatia
Marco Polo Challenge is jointly organized by Triathlon club Split, Korčula Tourist Board and Town of Korčula in co-operation with Vela Luka and Smokvica municipalities and their tourist boards. Marco Polo Challenge will include the entire island of Korčula. Korčula has ideal conditions for all types of active tourism and outdoor sports. The Island of Korčula with numerous cycling and walking routes and ideal conditions for all the water sports is an ideal destination for all lovers of active tourism and outdoor sports.
Therefore, start your triathlon season on the most beautiful island on the Adriatic.
web site
Twenty-two years ago (1997) this festival was initiated to include for the first time, all sword dance groups of the island.
SWORD DANCE FESTIVAL
IN KORČULA
nächstes Festival
12. Juni 2020
A primary goal was to preserve the island's unique traditional and historical heritage of sword dancing. Under the leadership of Mihajlo Grgić, President of the Tourist Board of Korčula, with Stanka Kraljević, Director of the tourist office, the island-wide festival was established along with the artistic management by Dr. Goran Oreb.
His prior island dance experiences along with his theatrical choreographic knowledge created the first spectacular scenario with village sword dance groups entering the city accompanied by their bagpipers and drummers.
programme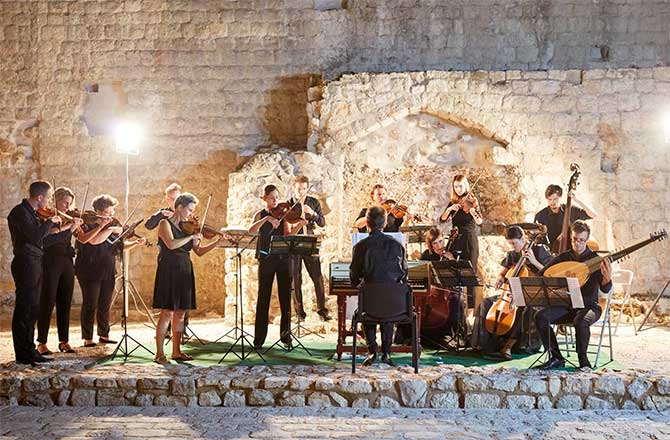 The Korkyra Baroque Festival was established in 2012 in order to promote local and international music and cultural heritage.
KORKYRA BAROQUE FESTIVAL
IN KORČULA
The unquestionable cultural and touristic success of the Korkyra Baroque Festival is founded on a superior artistic musical offer, which has been drawing tourists from around the world for several years now and has enriched the tourist cultural offer of the island of Korčula, the peninsula of Pelješac and Dubrovnik.
Concerts promote the churches of Korčula as cultural monuments, but also the unique cultural history of the entire County of Dubrovnik-Neretva.
Programm
Es ist eine erstaunliche Insel da draußen
erkunden gehen
Lernen Sie die steinerne Stadt kennen, entdecken Sie die verborgenen engen Gassen ("kale") während Sie entlang der verzierten Fassaden der eleganten Palais schlendern und beobachten, wie die Sonne sich in der Dämmerung mit dem Meer vereint.
erkunden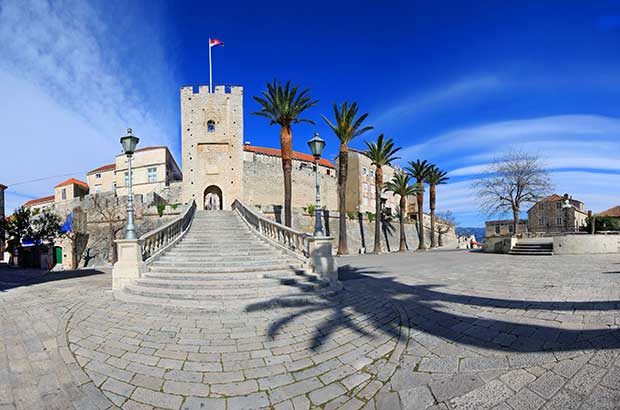 Gönnen Sie sich einen angenehmen Aufenthalt
In Korčula hotels